Philippines: Investment grade still at risk as debt-to-GDP ratio stays above 60% in 2022
MANILA, Philippines — The national government's outstanding debt, as a share of the economy, remained within alarming levels in 2022, keeping the threat to the country's creditworthiness.
The Philippines' debt-to-GDP ratio, a gauge of the government's ability to settle its liabilities, settled at 60.9% in 2022, the Department of Finance reported Thursday.
This was notably a better showing than the 63.7% ratio recorded in the third quarter of 2022. But it was slightly higher than the 60.5% ratio recorded at the end of 2021. 
Nevertheless, the DOF said the 2022 figure fell below the Marcos administration's ceiling of 61.8% debt-to GDP ratio for last year. Treasury data showed the state's debt pile sagged 1.7% month-on-month to P13.42 trillion in December 2022.
While this is a welcome development, Nicholas Antonio Mapa, senior economist at ING Bank in Manila, warned that the Philippines' hard-won investment grade credit rating would remain at risk of a downgrade if the debt-to-GDP ratio stays above the 60% threshold that is deemed manageable for developing economies.
A downward revision of the credit rating would have serious repercussions on the Philippines. For one, a lower rating would make borrowing money offshore more expensive for both the government and Philippine companies. A downgrade could also affect the country's appeal to foreign investors.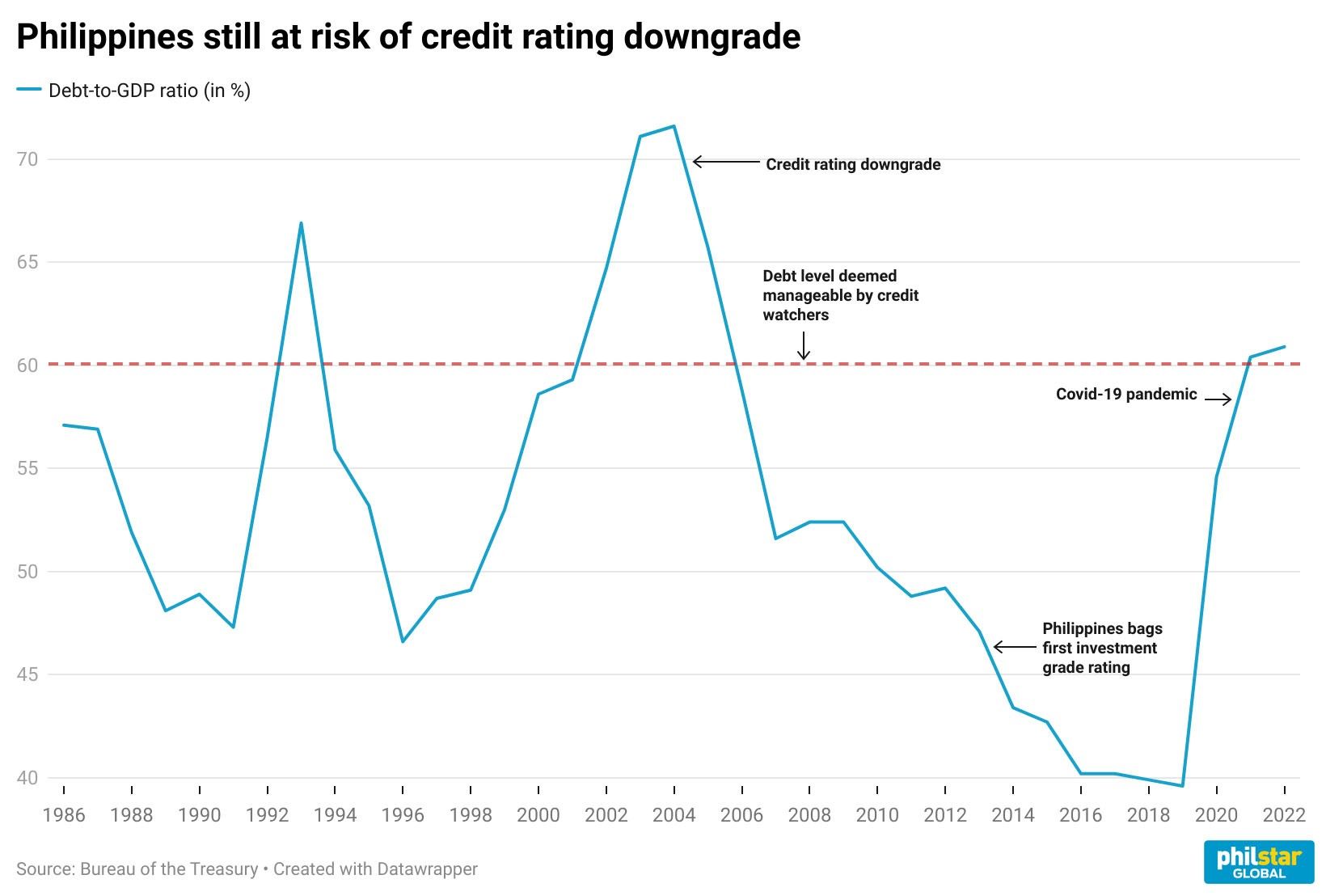 "The longer we stay above 60 percent we will always be susceptible to a downgrade. It's clear that the strategy for fiscal consolidation hinges on growth to hit or surpass target," he said in a Viber message. 
The country's debt-to-GDP ratio hovered at 39.6% in 2019, or before the pandemic turned the domestic economy on its head. In 2020, the former Duterte administration embarked on a borrowing spree to fund its crisis response, bloating the state's debt load.
The Marcos administration, which inherited the heavy debt burden, set a fiscal consolidation strategy that would entail imposing and reforming taxation measures to fatten national coffers. The government now looks to trim the debt-to-GDP ratio to less than 60% by 2025, and then down to 51.1% by 2028. 
That said, economic growth in 2022 helped trim the ratio, as GDP benefitted from the boons of a reopened economy.
"We think that as long as we have a credible fiscal program and GDP remains robust, there is little reason for a credit downgrade," Domini Velasquez, chief economist at China Banking Corp., said.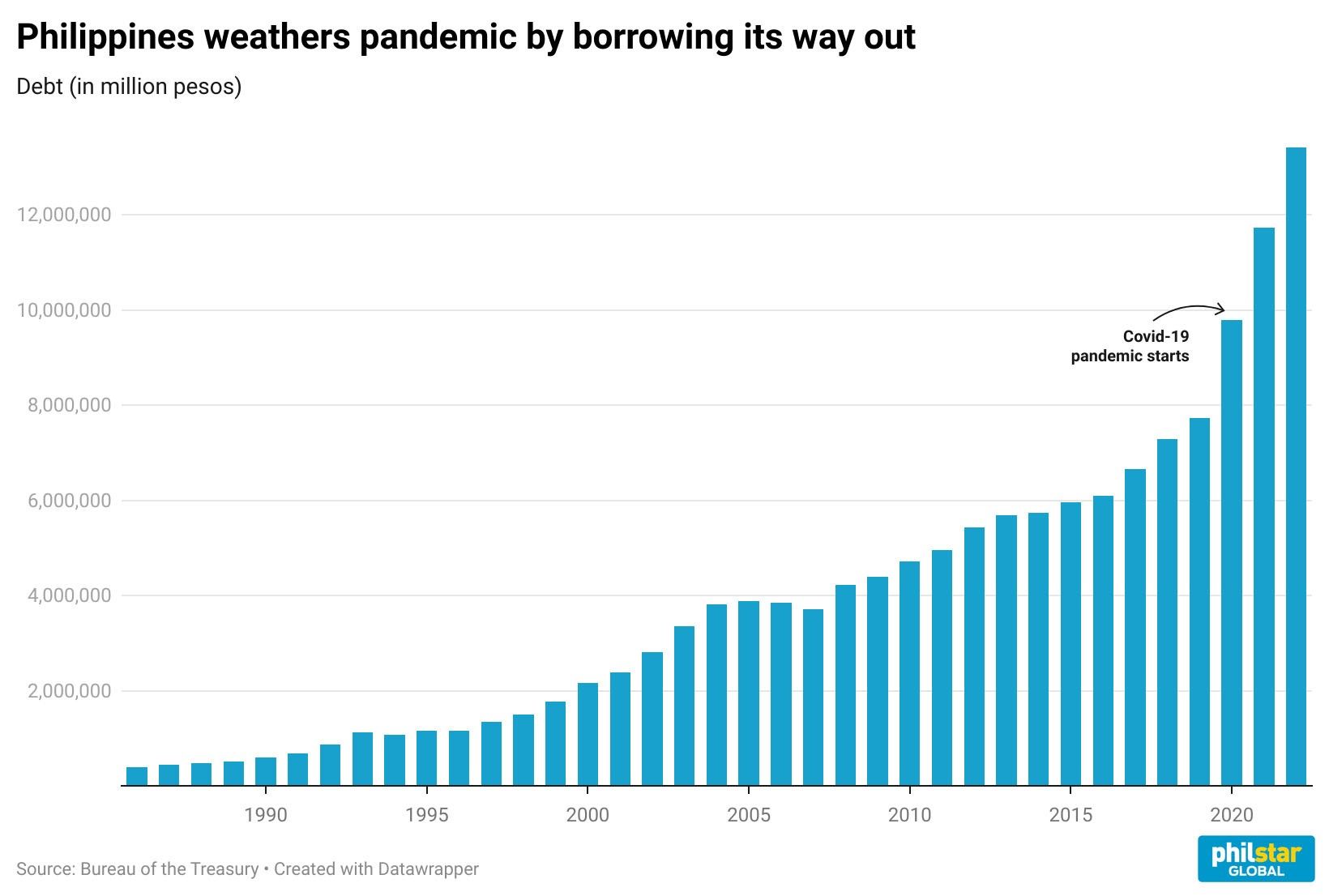 For ING Bank's Mapa, 2023 could prove to be a trying time for the Philippines' growth ambitions, as it looks to outgrow base effects and roiling global headwinds.
"Other countries in the region, most notably Indonesia has successfully completed its fiscal consolidation plan post-Covid. Our timeline, suggests that we will only achieve this a couple more years from now," he said.
Source: https://www.philstar.com/business/2023/02/02/2242065/investment-grade-still-risk-debt-gdp-ratio-stays-above-60-2022