Vietnamese businesses need urgent assistance
Businesses are in serious difficulty due to the impact of the Covid-19 pandemic. They need timely and substantive support measures from the Government.
Household businesses
With over 5 million households doing business, this sector contributes to nearly 32-33% of Vietnam's GDP. Since the fourth wave of the Covid-19 epidemic broke out in late April, this sector has been in the most vulnerable situation because it has had to suspend operation for the longest time.
The Government has requested ministries and agencies to promptly remove difficulties, obstacles and bottlenecks hindering production and business activities in order to minimize the number of enterprises, cooperatives and business households that have to cease operation, dissolve, or go bankrupt due to the impact of the Covid-19 epidemic.
Based on that spirit, the Ministry of Finance has drafted a number of solutions on tax exemption and reduction to support businesses and people affected by the Covid-19 epidemic, which will be considered by the National Assembly Standing Committee at the ongoing session.
Accordingly, the Finance Ministry proposed that instead of reducing 50% of taxes in the third and fourth quarters of 2021, businesses would be exempted from taxes in the third and fourth quarters of 2021.
In addition, business households, individuals doing business in all industries and areas, using all forms and methods of tax declaration and payments, would be exempted from personal income tax, value added tax and other taxes arising from business activities in the third and fourth quarter of 2021.
This is equivalent to a 50% reduction of the taxes for the whole year of 2021. A number of committees of the National Assembly have given the green light for this and the Ministry of Finance's draft decision will be approved soon.
Removing tax and fee burden for businesses
Phan Duc Hieu, Standing Member of the National Assembly Economic Committee, said that ministries, agencies and localities must immediately take action to bring businesses back to operation.
The fourth outbreak, which started on April 27, 2021, has caused many difficulties for household businesses and all people. The number of enterprises withdrawing from the market in the first eight months of 2021 was 85,500, up 24.2% over the same period in 2020.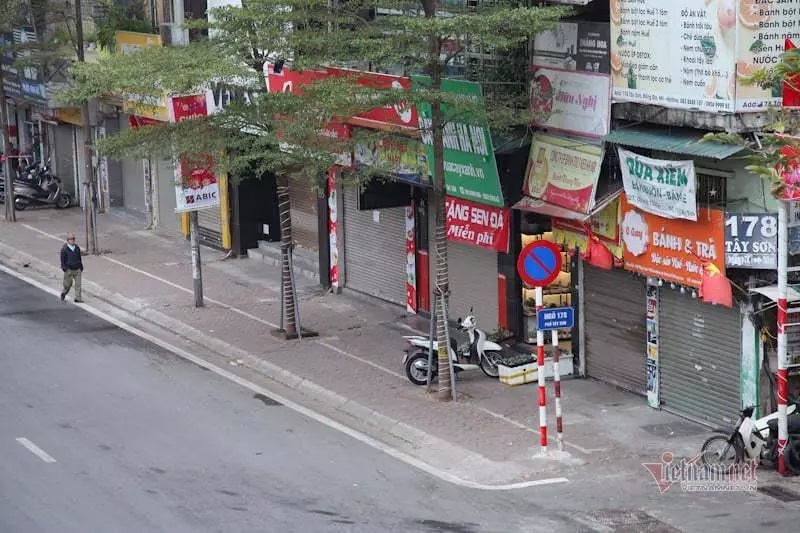 A Hanoi's street during the time of social distancing.
Of the above number, Ho Chi Minh City had up to 24,000 enterprises, accounting for 28.1% of the total, up 6.6% year on year. The number of enterprises temporarily suspending operation was 43,200, accounting for 50.5% of the total number of businesses withdrawing from the market. On average, nearly 10,700 businesses were withdrawing from the market every month.
According to a survey conducted by the Private Economic Development Research Board just sent to the Prime Minister, of 21,517 enterprises participating in the online survey, those that suspended production and business activities due to the epidemic accounted for 69% (equivalent to 14,890 enterprises).
The number of enterprises trying to maintain production and business activities though they were unable to operate at full capacity accounted for 16% (equivalent to 3,355 enterprises). The number of enterprises that had to dissolve or stop operation to wait to be dissolved was 15% (equivalent to 3,272 enterprises).
The rate of enterprises maintaining production and business activities below capacity was 11.6% in Ho Chi Minh City, compared to 9% in Da Nang. The rate of enterprises closing production and business activities due to the epidemic in Ho Chi Minh City, Binh Duong and Dong Nai are higher than the country's average and was over 71%. These are also provinces and cities with a very high number of Covid-19 infection cases at present and have prolonged social distancing measures.
Giving support to these businesses with financial and tax policies belong to the responsibility of the Ministry of Finance. The Government has assigned the Ministry of Finance to urgently study, advise and propose additional solutions to support businesses.
Maintaining liquidity is important in the context of production stagnation, and ensuring the liquidity of enterprises is very important.
According to this survey, the proportion of businesses ceasing operations due to the epidemic that had cash flow to maintain operation for less than a month accounted for nearly 40%, while it was 17.7% for enterprises that are maintaining production and business activities.
Business households are the most vulnerable, with 45% of households saying that they had cash flow to maintain operations for less than one month. This rate was 39.5% for private enterprises, limited companies and joint stock companies, 30% for state-owned enterprises and 30% for foreign-invested enterprises.
"This shows that if businesses have to close for more than one month without outside support, the possibility of dissolution is very high," the survey report noted.
Recently, the State Bank of Vietnam issued Circular 14/2021/TT-NHNN amending and supplementing a number of articles of Circular No. 01/2020/TT-NHNN, officially allowing banks to extend debt restructuring for an additional six months.
Thus, the State Bank of Vietnam has officially allowed banks to restructure the repayment term for the outstanding balance of principal and/or interest arising before August 1 from lending and financial leasing activities during the period from January 23, 2020 to June 30, 2022.
A number of ministries and agencies have tried to come up with measures to help businesses. The Ministry of Planning and Investment is working on a common scheme. As required by the Government, many tasks must be completed by ministries and agencies to submit to the Government in September.
This deadline is very urgent to save businesses.
Lan Anh
Source: https://vietnamnet.vn/en/feature/vietnamese-businesses-need-urgent-assistance-776454.html