Vientiane Logistics Park and Thanaleng Dry Port – a boon for businesses, Lao developer tells Asean forwarder operators
The Vientiane Logistics Park (VLP) and its associated Thanaleng Dry Port (TDP), Laos' first ever integrated logistics hub, is offering lucrative opportunities for businesses, the project developer has told leading forwarder operators from the Association of Southeast Asian Nations (Asean).
Delegates from the Asean Federation of Forwarders Association (AFFA) toured the landmark project last week to explore business opportunities.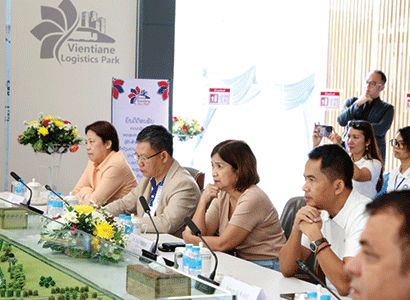 Representatives from AFFA were briefed about the VLP and TDP.
The visit was part of their trip to Laos for the AFFA Conference and 32nd AFFA Annual General Meeting in Vientiane from December 9-11, when they pushed for the speedy movement of goods within the region and beyond in the post-pandemic era.
Open for service since December 4 last year, this multimodal transport node, which contains a vital link between the Laos-Thailand and Laos-China railways, has turned Laos into a regional logistics hub, especially creating a strong transport link between Asean and China.
Welcoming the guests, the dry port's Managing Director Mr Sakhone Philangam said the facility, which acts as a border checkpoint for freight and employs streamlined procedures similar to those of an airport, significantly speeds up logistics and cuts costs.
It is expected that cross-border transport costs, especially at the first Laos-Thailand Mekong Friendship Bridge, will fall by 40 percent from current prices by 2025.
Centred around the Laos-China Railway, which is part of the planned Kunming-Singapore regional rail network, the modern dry port handled as many as 41,000 containers (carrying import, export and transit goods) during the first nine months of this year.
It also facilitates the shipment of freight between Asean countries and Europe via the China-Europe railway network, which cuts travel time to about 15 days, much shorter than transport by sea which takes about 45 days.
The US$727 million VLP and TDP are part of the packaged Lao Logistics Link (LLL) project being developed as a pillar of the government's strategy to transform Laos from being landlocked to a land link within the region.
The LLL project encompasses the Vung Ang Seaport in Vietnam's central Ha Tinh province, a planned railway linking the seaport to the dry port in Vientiane, and a planned logistics park and 2,000MW coal-fired power plant in central Laos' Khammuan province, through which the planned railway will pass.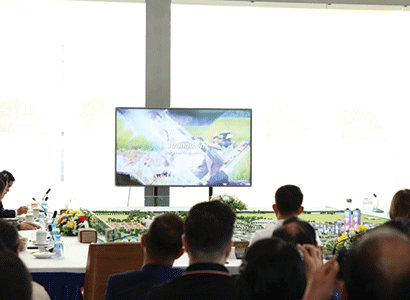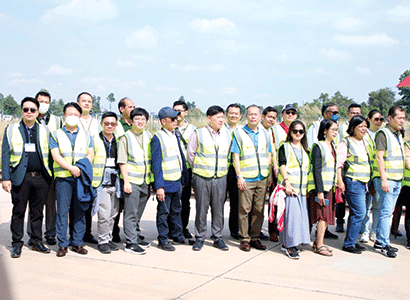 Petroleum Trading Lao Public Company (PetroTrade) – the mother company of Vientiane Logistics Park Company Limited – was given the green light to partner with the governments of Laos and Vietnam to develop and operate the LLL, which will form an important regional and global interlink network.
Through the Vung Ang Port seaport, Laos would become a connecting point to countries in the Pacific region, providing cost effective transport services.
To maximise production for export potential, the Lao investor is also developing various investment zones where local and foreign entrepreneurs can set up businesses within the VLP and TDP.
Recently, an official groundbreaking ceremony took place to start construction of Phase 2 of the Vientiane Logistics Park and Thanaleng Dry Port on 327 hectares of land. This will include a tank farm, export processing centre, logistics park, free trade zone, and technology and halal hubs. These zones are expected to be operational by the end of next year.
Vice President of Vientiane Logistics Park Co., Ltd., Mr Tee Chee Seng, said a number of incentives are being offered to companies setting up business in these zones.
They include tax breaks for a maximum of 16 years. In addition, manufacturers assembling and repackaging products in the processing zone for export will enjoy Lao origin status and have privileged access to key markets. These include the EU, United States and India, with some product categories eligible for zero-tariff status when exported to those countries.
Laos' Minister of Public Works and Transport, Mr Viengsavath Siphandone, told AFFA members at their conference in Vientiane that the country is forging ahead with its plan to become a "land linked nation" by vastly improving connectivity between Asean and other areas, especially China – the world's second largest economy with more than 1.3 billion consumers.
Chairman of the Asean Federation of Forwarders Association, Mr Yukki Nugrahawan Hanafi from Indonesia, observed that Laos was well positioned and is pioneering the expansion of connectivity with the wider region, especially China, through the Thanaleng Dry Port.
Source: https://www.vientianetimes.org.la/freeContent/FreeConten246_Vientiane_y22.php