Thailand: Thailand prepares for blockchain
Blockchain technology is headed for widespread adoption in Thailand within two years, necessitating legal amendments to support its use, say academics and technology experts.
Blockchain underlies Bitcoin and other cryptocurrencies. The blockchain format is a decentralised ledger system that requires "decentralised approval" from the nodes and participants in the system, as opposed to the current mechanism in which "centralised approval" (such as from a bank) is required.
"The adoption of blockchain technology is expected to be widely seen here by 2018, thanks to its capability of transferring valued assets with trustworthiness, transparency and security," said Bhume Bhumiratana, a blockchain specialist.
Globally, the three sectors that have seriously adopted blockchain technology are finance, healthcare and government. Thailand lags behind global peers but is still a leader in Asean in the use of the technology.
Blockchain might be complicated to understand but it is not expensive to implement, said Mr Bhume, adding it requires programming skills but costs less in terms of systems maintenance. This will encourage many businesses to adopt blockchain technology very fast, depending on different business objectives and models, he said.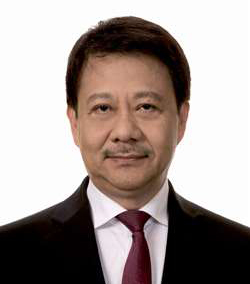 Dhiraphol Suwanprateep, a partner at the law firm Baker McKenzie Thailand, said many existing laws lack supporting regulations to work in parallel with blockchain.
"Policymakers need to understand this technology and consider relevant regulations before adopting it," he said.
Currently, the Electronic Transactions Development Agency is in the process of amending the Electronic Transaction Act 2001 to support the use of smart contracts via the adoption of blockchain. Once it is amended, the law will support the e-automated system.
Moreover, the upcoming data privacy law should take into account the sharing of personal data for public use via blockchain, such as for patient records in hospitals.
"There are also data residency/sovereignty laws to consider, where certain countries do not 
Dhiraphol Suwanprateep, a partner at the law firm Baker McKenzie Thailand
 allow the transfer of sensitive data outside the country of origin," said Mr Dhiraphol.
For the banking and finance sectors, he said blockchain would allow international money transfers without financial institutions, so banks and financial institutes will have to prepare for fiercer competition. The regulators should think about laws for the changing markets as well.
Source: http://www.bangkokpost.com/business/finance/1189341/thailand-prepares-for-blockchain