Thailand: Mass-market eco-car stimulus on the way
The Industry Ministry will roll out an incentive programme to encourage six eco-car manufacturers to make electrified eco-cars after finding that the electric vehicle scheme was ineffective at boosting mass-market production of EVs. 
"The ministry is working on a new programme called Eco EV, which is aimed at offering incentives for eco-car makers," said Nattapol Rangsitpol, director-general of the Office of Industrial Economics (OIE). "We initiated Eco EV in September, while the cabinet meeting has acknowledged the ministry's policy and the OIE expects to finalise the incentive framework by the end of this year." 
The EV scheme also allows any applicant for hybrid EVs, plug-in hybrid EVs and battery EVs to combine production volume with the government's eco-car scheme, which requires a massive volume of 100,000 cars a year. 
But Mr Nattapol said the current programme does not specify EV types, so car makers can produce niche models that require small production volumes and invest only in assembly lines for finished cars. 
"When EVs remain a niche segment with small volume, there is no investment in core technology from EV-related products as the government expected," he said. 
In addition, the EV scheme offers new excise tax incentives for hybrid EVs and plug-in hybrid EVs that qualify for Board of Investment (BoI) privileges, with the levy decreasing from 25% to 5% based on CO2 emissions.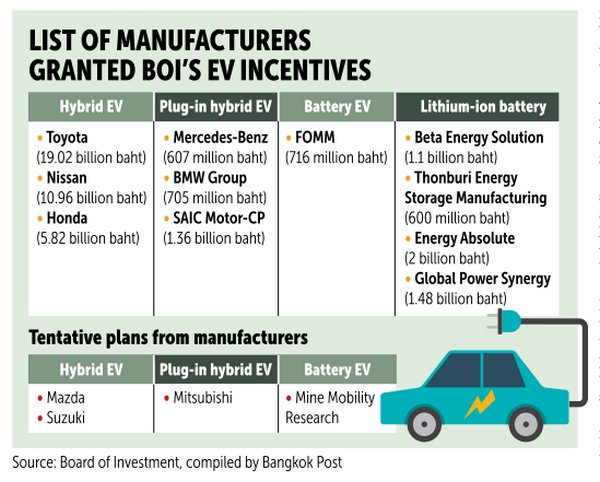 The battery EVs will be taxed at 2%, a sharp drop from 10%. 
But this tax privilege is solely intended to promote local EV production and will expire in late 2025. 
Mr Nattapol said there are gaps for CO2 emission of 100g/km between eco-cars and EVs; for example, the eco-cars are subject to 12-14% rates while hybrid and plug-in hybrid EVs enjoy 5%. 
The eco-cars, releasing CO2 at 120g/km, are taxed at 17%. 
"We are figuring out the excise tax terms in a bid for fairness among all eco-friendly cars in the country, so the Eco EV can be the tax incentive framework for the buyer side, " Mr Nattapol said. "The OIE expects retail prices of hybrid versions to stay between 500,000 and 600,000 baht and the plug-in hybrid and battery EVs to cost 700,000 baht." 
The government's eco-car scheme was issued in two phases, in 2007 and in 2013. There are six Japanese manufacturers signed up: Nissan, Honda, Mitsubishi, Suzuki, Toyota and Mazda. 
The eco-car project is set to be the second product champion for the country after Thai-made pickup trucks, which have led the country to be ranked in the world's top five light-commercial-vehicle makers by production volume. 
According to the Federation of Thai Industries (FTI), eco-car output from the six manufacturers stood at 245,567 units from January-August. Of the total production, 133,768 eco-cars went to the domestic market while 111,799 were shipped worldwide. 
The FTI also reported that the country made a total of 2,315,000 eco-cars from March 2010 to August 2018. 
The OIE said sales of eco-cars accounted for 54% of the passenger car market in the first eight months of this year, up from 44% in 2017. 
"The government aims to protect the eco-car scheme that attracted massive investment from six manufacturers, as well as the EV scheme, which should get new investment flows from not only car assemblers but also parts makers," Mr Nattapol said. "We just want all automotive schemes to result in the highest possible benefit." 
Source: https://www.bangkokpost.com/business/news/1571950/mass-market-eco-car-stimulus-on-the-way