Thailand: Finance Ministry sees 2022 economic growth of 3.0-3.5%
Thailand should see economic growth of 3 to 3.5% this year, driven by the key export and tourism sectors, Finance Minister Arkhom Termpittayapaisith said in an interview on Wednesday.
Mr Arkhom, who was speaking on the sidelines of a meeting of finance ministers from the Asia-Pacific region (Apec), said the economy was expected to grow 3.7% next year and the baht's performance was in line with regional peers.
The Thai currency has been hovering at a 16-year low against the United States dollar. It has depreciated about 12% against the greenback so far this year.
Southeast Asia's second-largest economy is expected to return to its pre-pandemic levels late this year or early next, the central bank predicts, lagging neighbours as tourism has only begun to recover.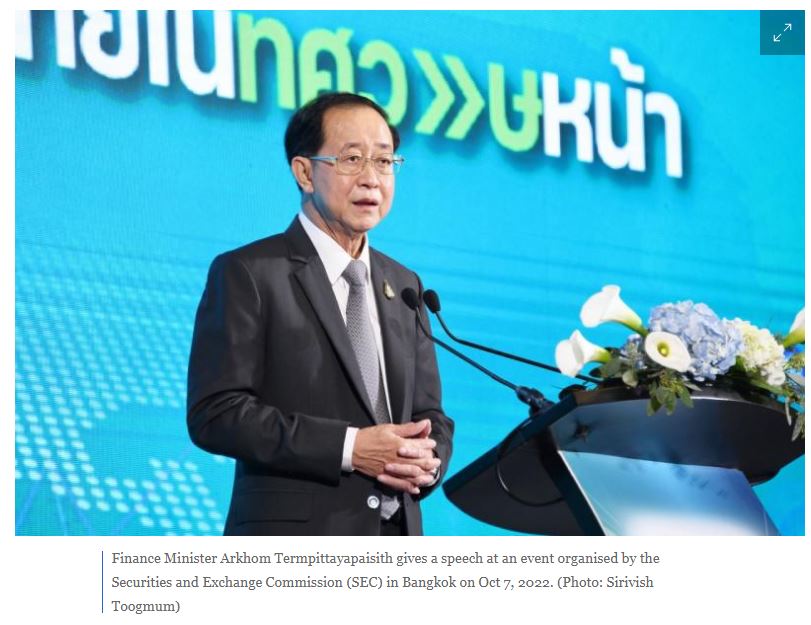 Last year's economic growth of 1.5% was among the slowest in the region.
In the April-June period, the economy grew 2.5% from a year earlier and expanded 0.7% from the previous quarter.
Thailand was expecting 8 million to 10 million foreign tourists this year, Mr Arkhom said.
On Tuesday, Pornchai Thiraveja, director-general of the Fiscal Policy Office (FPO), said the Finance Ministry is considering new measures to encourage spending in a bid to maintain the Thai economic recovery.
Source: https://www.bangkokpost.com/business/2417860/finance-ministry-sees-economic-growth-of-3-0-3-5-this-year