Thailand: Capital inflow continues despite efforts
Despite the Bank of Thailand's moves to scale back short-term bond sales and curb the baht's rapid gains, offshore fund inflows are continuing but money is shifting to long-term bonds, says the central bank chief.
Bank of Thailand governor Veerathai Santiprabhob reiterated that the reduction in short-term bond issuance is an initial measure and that the central bank has further means to tackle the flood of fund inflows.
"This is the most basic measure to take care of the fluctuations in the foreign exchange market, and the Bank of Thailand still has several instruments on its menu," he said.
"We're ready to put these instruments into force whenever we find it necessary or detect any irregularity in the market."
The Bank of Thailand has announced it will taper 80 billion baht worth of its short-dated bond offerings this month to curb the baht's strength after the local currency emerged as the best performing currency in Asean. The central bank at that time found that fund flown into short-term bonds amid the mounting global uncertainties from the US president Donald Trump's protectionism stance, geopolitical tensions, and elections in several European countries which could shake the economic bloc as investors have perceived the baht as a safe haven.
Year-to-date, the baht has risen 4.2% against the US dollar, outpacing the Singaporean dollar (+3.3%), the Malaysian ringgit (+1.9%), the Indonesian rupiah (+1.3%) and the Philippine peso (-0.1%). "We [the central bank] have signalled both Thai and foreign investors through this measure [cutting bond size offerings] that we do not welcome and don't like the high amount of short-term inflows to the country," Mr Veerathai said.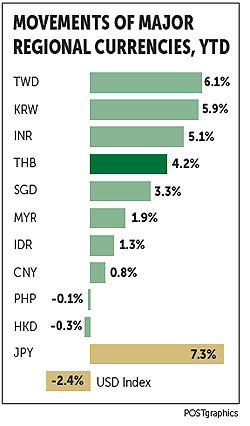 The governor was tight-lipped about whether the Bank of Thailand will extend the current measure, which will lapse next Tuesday, when the final batch of the central bank's three- and six-month bonds are auctioned. "This kind of measure requires time to assess outcome and also the context will have to be considered. We can't decide after only few weeks of implementation whether it should be continued or not," Mr Veerathai said.
Even though offshore funds are switching into long-dated bonds, he said the central bank is less concerned.
He said the appreciation of the baht and other currencies in the region stems largely from the softer US dollar and the baht's pace of strength has been in the middle range when compared to other Asian currencies.
Mr Veerathai recommends that business operators with international exposure hedge against foreign currency risk, as volatility will only intensify.
"Most Thai businesses are too complacent and have not hedged," he said.
Source: http://www.bangkokpost.com/business/news/1234846/capital-inflow-continues-despite-efforts