Myanmar-Thailand: Good neighbours
Exports from Thailand and Malaysia will continue to grow thanks to the rapid economic expansion driving demand in the CLMV (Cambodia, Laos, Myanmar and Vietnam) countries and weak currencies, while economic recovery in both countries will continue to support bilateral trade, say experts.
Malaysia's economy is projected to expand by between 4% and 4.5% this year, with a weakening ringgit helping exports and attracting foreign direct investment. The Thai economy, meanwhile, is expected to improve to 3.7% from 3.2% growth last year, thanks to the export recovery.
"We are expecting to see a lot of secondary trading flows going through to the Indochina region, especially via the CLMV economies. Those frontier markets are growing at a much faster pace when compared to the rest of Asia, where both Thailand and Malaysia will most likely be the beneficiaries of trade," Ray Choy Swee Yew, director of RHB Research Institute, part of the RHB Banking Group in Malaysia, told Asia Focus.
"Thailand will be an important gateway of access to those fast-growing frontier markets and because of concerns with regard to trade through to developed markets, including Europe and the US, Thailand and Malaysia will find it very important to upgrade on trade issues as well as find new avenues for intraregional trade," he said at an event co-hosted by the Malaysia External Trade Development Corporation (Matrade) in Bangkok recently.
Norman Dzulkarnain Mohd Nasri, trade commissioner of Matrade in Thailand, forecast steady if modest growth in trade between Malaysia and Thailand, which was worth US$20.8 billion in 2016. "The agreement in 2015 which now allows us to use both Thai baht and Malaysian ringgit instead of the US dollar only will continue to boost trade volume in the years to come," he told Asia Focus. "The growth of trade between the two countries will continue in the next five years but at a moderate pace of around 2-3% annually, and we expect the value to be around $30 billion by 2018."
According to a SWOT (strengths, weaknesses, opportunities and threats) analysis by RHB of the Malaysian economy, recovering commodity prices will bolster export receipts and related tax revenues. Cheap asset valuations should also offer reasonably attractive risk-reward. However, US President Donald Trump's increasingly protectionist stance may threaten Malaysia's trade-dependent economy.
"Because of the cheapness of the ringgit, it may eventually attract investment in terms of both foreign direct investment and investment into financial market assets such as bonds and equities, so there are definitely a lot of opportunities where the ringgit is currently more than 10% undervalued, so there is an opportunity to buy cheap Malaysian assets right now," said Mr Choy.
He said the nominal exchange rate of the ringgit was near its lowest in recent years, so once the world economy comes to grips with Mr Trump's policies and the new global normal of low growth and low interest rates, the Malaysian currency could eventually see an appreciation.
"The possible effect of US policies on trade in Thailand and Malaysia is still unclear at this point and we need to give US policymakers another six months before we can see the picture," he said.
The strong correlation between the ringgit and oil prices is another reason why RHB believes the currency will strengthen later this year. A forecast earlier this year called for a 6% rise in Malaysian exports after the ringgit strengthened from 4.43 to the dollar to 4.35 in the fourth quarter of 2016. However, it has since slipped back and was trading at 4.42 last week.
"We have seen a trade rebound at the end of 2016, partly helped by the improvement in commodities prices and it should continue to improve this year," said Mr Choy.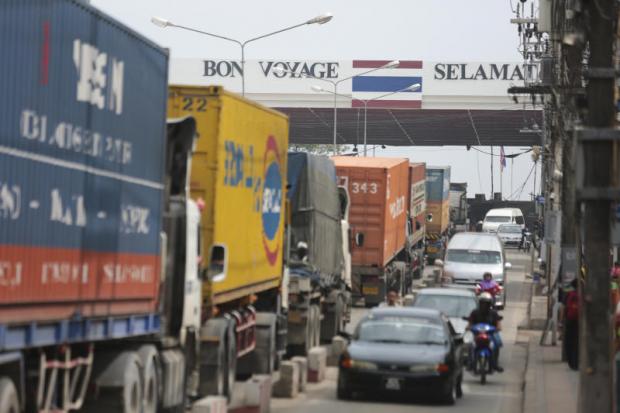 Traffic at the Sadao border checkpoint is congested, though the Thai government is planning special
economic zones in the
district bordering Malaysia. Patipat Janthong
"The commodities price index is already bouncing off the floor so this will be good for commodity exporters such as Malaysia. You can see that crude oil prices have started to improve quite significantly and hopefully this will continue to feed into a slightly better trade value for Malaysia."
Nicolas Sopel, a strategist at RHB Research Institute, noted Thai economic growth improved last year to 3.2% from 2.9% a year earlier. Growth should be even better this year at 3.7%.
"The reasons for this positive outlook include further recovery of the export sector, a stabilising economic outlook in China as well as the currency market, the continuation of government-led infrastructure construction, the prospect of an increase in private investment mostly related to the infrastructure master plan, and resumption of private consumption following the mourning for the late King," he said.
Good economic prospects could also bring stability in the financial market, supported by effective management of monetary policies by the Bank of Thailand. RHB expects Thai exports will expand by 2% this year as the baht weakens to around 36.20 per dollar by the fourth quarter from 34.74 baht now, in line with other currencies in the region.
"For Thailand, export growth will continue to be supported because of the consolidation of chip conductors within Thailand on top of the global recovery," Mitzi Koh, an analyst covering rates and forex markets at RHB Research, told Asia Focus. Exports, which accounted for 65% Thailand's GDP, grew marginally in 2016 for the first time in four years. The National Economic and Social Development Board forecasts 2.9% expansion this year.
"The consolidation comes from China and China has continued to move out from the sector so this is a short-term boost for Thailand, while the prices of rubber and rice are going up but the volume is going down because of the recent floods in the south of Thailand," she added.
As exports recover, the Thai government could become even more selective in targeting particular sectors to promote in order to provide more balanced growth for the economy, Mr Sopel said.
Exports to the G3 (the US, the European Union and Japan) markets, which accounted for more than 20% of overseas shipments, are expected to improve, thanks to the US economic rebound and stimulus measures in the euro zone and Japan, he added. In terms of bilateral trade, Malaysia's exports to Thailand amounted to copy2.6 billion last year, mainly machinery (45%), minerals (18%) and oil products (12%). Thailand's exports to Malaysia were worth copy2.3 billion, mostly machinery (30%), transport (16%) and mineral products (11%). "At a quick glance, it seems that Malaysia and Thailand appear to be trade rivals but this is not the case because Thailand is actually listed as Malaysia's fifth largest trading partner while Malaysia is listed as Thailand's fourth largest trading partner," she said.
"There is actually lot of significant synergy present for both countries that can be leveraged on. Malaysian trade with Thailand will increasingly benefit from the strategic location of Thailand which means that Malaysia could be exporting value-added goods to surrounding countries that share borders with Thailand — Laos, Cambodia and Myanmar."
Thailand's trade with Malaysia, meanwhile, should benefited from steady expansion in Malaysia's domestic economy.
Despite the recovery of global trade in the past two months, which led to export growth of about 9% in Thailand in January, Ms Koh said "we should not be complacent" because the trend of trade protectionism is continuing to "lurk around the corner" as some key players in the global economy look inward.
"It has now becoming increasingly important for Asian economies, Thailand and Malaysia included, to look toward trade cooperation between neighbours to continue another phase of strong economic growth over the coming years, as the increase in protectionism is becoming a reality," she warned.
Looking forward, the Thai government's plan to set up special economic zones in Songkhla and Narathiwat in the southern region should further strengthen bilateral trade.
Trade between the customs posts in Sadao in Thailand and Padang Besar in Malaysia already accounts for half of all Thai border trade, with a value of 488.7 billion baht.
She believes expanded infrastructure and industrial development will increase trade value via this key border point and further enhance economic cooperation, reducing the impact of uncertainties in the global economy
"Preparation for the Narathiwat special economic zone is under way with the objective of developing the area into a one-stop service centre that would act as a gateway to border trade between Malaysia through to Kuala Lumpur, making Thai goods easily accessible via land, air and water," Ms Koh said.
Source: http://www.bangkokpost.com/business/news/1221962/good-neighbours