Cambodia Asia Bank Cooperates with Smile Shop E-Commerce on "Buy Now Pay Later" Service
On 21st March 2022, Cambodia Asia Bank cooperated with Smile Shop on the newest service "Buy Now Pay Later" to assist customers financially in making purchases of any products from Smile Shop. The cooperation will allow customers to do online purchases from Smile Shop by paying nothing now. Our customers will start paying in installments after first 30 days with a payment term for 6 months at zero interest rate.
Mr. Dwaipayan Mitra, Chief Operations Officer of Cambodia Asia Bank, has mentioned that "Cambodia Asia Bank has rooted deeply in the banking and financial sector in Cambodia for nearly 30 years. We have continuously developed our products and services to fulfill customers' needs in this digital age as such the innovation of "Buy Now Pay Later". The cooperation between Cambodia Asia Bank and Smile Shop will take part in helping customers lessen their financial burden as customers could enjoy ordering thousands of high-quality products and repay in interest free installment. Customers will no longer worry about spending much money at once, they can manage their flow of money better if they use this service. Cambodia Asia Bank strongly hopes that Buy Now Pay Later will be a new financial installment method for customers."
Mr. Niraj Gupta, Head of Digital Banking of Cambodia Asia Bank, has added that "we have conducted research thoroughly about the market and partnership before investing in this new service. Buy Now Pay Later will not only help customers in managing their expenses, but the service itself is also fast and convenient. The service is simple and easy to use, customers just make an order from Smile Shop and use "BeeZee Powered by CAB" while checking out, customers will get approval on their online purchases in less than 60 seconds. Furthermore, they will enjoy the massive offers and discounts instantly. I am optimistic about the partnership with Smile Shop, one of the popular online shops in Cambodia, which receives strong support from customers on the quality of products and services.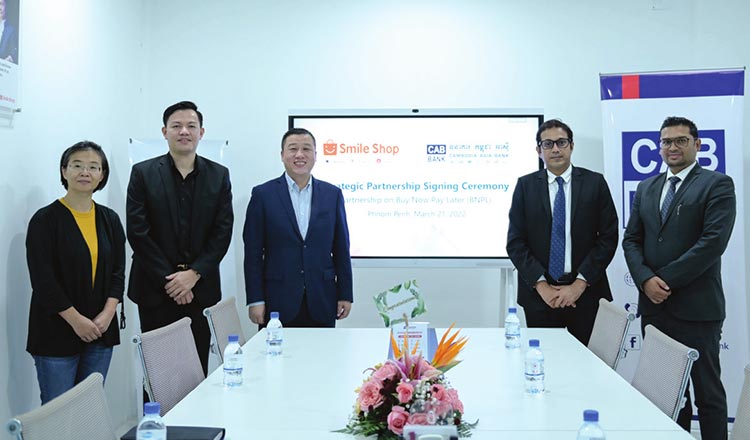 Mr. Jack Lee, Founder & CEO of Smile Shop said: BNPL arrangements are becoming an increasingly popular payment option in many countries, especially when shopping online. We believe this partnership will be a great step for Cambodia Bank and Fintech industry. This BNPL service will give Cambodians easy access and convenience to make online purchases of hundred thousand of products by paying nothing now through Smile Shop App. Smile Shop is a leading super e-commerce platform in Cambodia. The mission of the Smile Shop App is to make a better daily life for the people in Cambodia by developing more and more innovative technologies.
Buy Now Pay Later is initiated by Cambodia Asia Bank to facilitate customers in purchasing from Smile Shop App and could pay back from step to step up to 6 months without charging the interest. Customers will also get many special offers from this service. For more information, please contact Cambodia Asia Bank Call Center via 023 980 000.
Source: https://www.khmertimeskh.com/501045455/cambodia-asia-bank-cooperates-with-smile-shop-e-commerce-on-buy-now-pay-later-service/