Thailand: Scant few eligible for VAT return scheme
A meagre 360,000 of the 11.4 million recipients of the government's welfare and subsidy scheme for the poor are entitled to value-added tax (VAT) payback in the first month after the tax incentive scheme started last month. 
The small number was attributed to only a handful of Thong Fah Pracha Rat shops participating in the programme, said Suttirat Rattanachot, director-general of the Comptroller-General's Department. 
During Nov 1 to 30, the 360,000 recipients spent 97.4 million baht via welfare smartcards to buy goods at Thong Fah Pracha Rat shops equipped with point-of-sale (POS) terminals, she said. Such transactions generated VAT amounting to 6 million baht, and the buyers will get a VAT refund worth 4.4 million on a pro rata basis. 
In short, during November, just 3.2% of welfare recipients – 360,000 of 11.4 million card holders – are now eligible for an average of 12.20 baht each from the scheme. 
Under the six-month VAT return scheme, welfare smartcard holders get 5% VAT back for every purchase they make from November 2018 to April 2019 at shops registered under the VAT system, with 1% redirected to the buyers' savings accounts or their contribution to the National Savings Fund (NSF). The remaining 1% goes to the government's coffers. 
The government caps the VAT return at 500 baht a month throughout the six-month period, with payment scheduled for the middle of every month. 
The VAT payback scheme is intended to create more disposable income for low-income earners, strengthening their purchasing power. 
The government gives a monthly living allowance of 200-300 baht to 11.4 million people earning no more than 100,000 baht a year to buy staple goods at Thong Fah Pracha Rat shops. Those who signed up for job training receive an additional living allowance of 100-200 baht a month. 
Some 5.3 million of 11.4 million recipients of the government's welfare and subsidy scheme live below the national poverty line, earning less than 30,000 baht a year. 
The Comptroller-General's Department is putting money from the VAT payback scheme on the welfare smartcards starting today. 
Ms Suttirat said only 14% of 30,000 Thong Fah Pracha Rat shops across the country have registered under the VAT system and installed POS machines, resulting in the paltry number of welfare smartcard holders eligible for VAT return.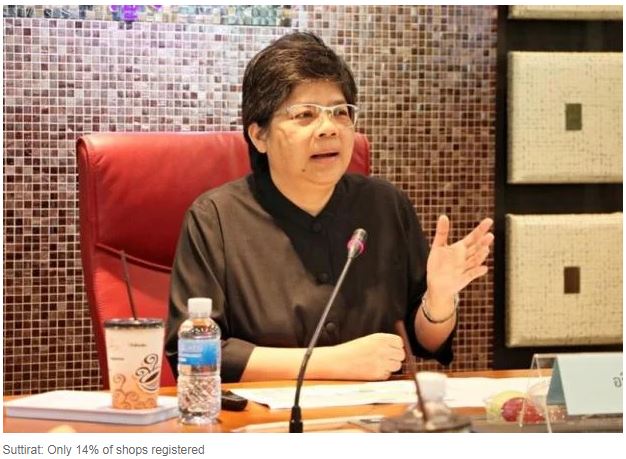 For savings accounts allowed to receive 1% return of VAT, she said the department cooperated with the Bank for Agriculture and Agricultural Cooperatives (BAAC) and the Government Savings Bank (GSB) to open special savings accounts for all welfare smartcard holders. 
Farmers have accounts at BAAC, while non-farm workers have accounts at GSB. 
Both banks will transfer money to the NSF if the smartcard holders are members of the voluntary pension fund for every 50 baht they get back, Ms Suttirat said. 
Source: https://www.bangkokpost.com/business/news/1593526/scant-few-eligible-for-vat-return-scheme